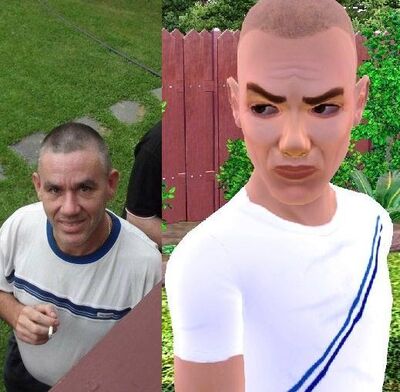 Wayne is the husband of Joel's sister Karen Jordan and has one of the closest likenesses to all characters to their Sims.
Although Wayne has not yet had a speaking part he can be seen in three Nan & Cola films.
Wayne Jordan's Nan & Cola Movie History
Edit
Nan & Cola Catch A Killer (as Doug Updegrave, 2010)
Merry Christmas from Nan & Cola (2010)
Nan & Cola: Fibreglass Island (2011)
Wayne Jordan Facts!
Edit
- Even though Karen's Sim was created almost a year before Wayne's, they had no trouble falling in love and getting married in the Sims!
- A photo of Wayne can be seen in Heart of Fibreglass: The Nan Booberson Story during the final montage.