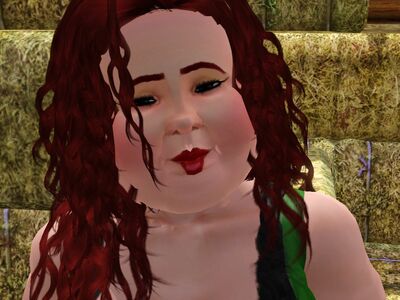 Wanda Pavlova was created and originally played by Joel Davies as part of the Pop n' Flo Characters. Wanda is a broken hearted beauty queen who lives in a barn in the woods due to a tragic past.
Morbidly obese, Wanda was shunned from the beauty world where she ended up as a recluse.
Wanda's Nan & Cola Movie debut was in Nan & Cola: The Movie, where she helped out a lost and upset Nan, who had stumbled upon her barn in the woods.
Wanda Pavlova's Nan & Cola Movie History
Edit
Nan & Cola's Force Of Fibreglass (2011)
Wanda Pavlova Facts!
Edit
- Wanda makes her return in the upcoming Nan & Cola series - Nan & Cola's Force of Fibreglass.
- Wanda was due to get her own movie titled, 'The Tragic Life & Times of Wanda Pavlova' but Joel decided to scrap it, and made Fibreglass Island instead!
- Wanda has a pet cow named Miss Violet.