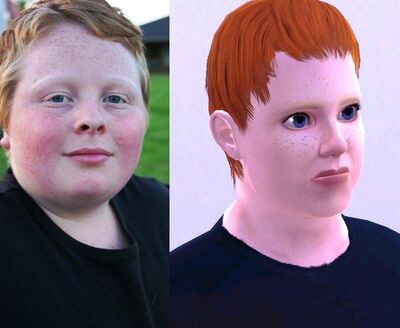 Shannon King is the cousin of Nan & Cola and the eldest son of Samantha and David.
Shannon is definitely the leader out of his brothers and always a positive role model, even when he's telling them to shut up!
Shannon shone as Sharron in Nan & Cola: The Movie, where he donned a stunning ginger wig and sequins to listen in on Cola whilst she shopped for a wedding dress.
Shannon King's Nan & Cola Movie History
Edit
Nan & Cola: The Movie (as Shannon/Sharron, 2010)
Merry Christmas from Nan & Cola (2010)
Nan & Cola: Fibreglass Island (2011)
Shannon King Facts!
Edit
- Shannon has a blink and you'll miss it part on Fibreglass Island, where he was at the crash site infortmation centre.
- Shannon, like his brother Peter, has stated that he dislikes his Sim. He said it looks 'dirty'.
- In the Christmas Special, Shannon had long wavy hair, a copycat of the 'do the real Shannon was sporting at the time.
- Rumour has it that Shannon may play a large role in the first episode of the rumoured Ol' Madge spin-off series.