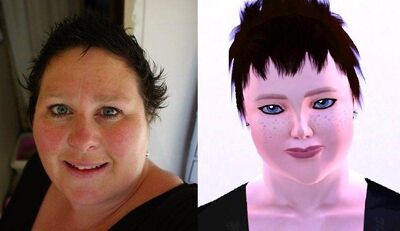 Samantha King is Joel's eldest sister and the aunt of Nan and Cola. She is the matriach of the King's and loves her family dearly.
The King Family are responsible for finding Cola when the girls went missing and Samantha also lended her support when the plane crashed on Fibreglass Island.
Sam's most famous role to date is as the doomed Mrs White in Nan & Cola Catch A Killer.
Samantha King's Nan & Cola Movie History
Edit
Nan & Cola Catch A Killer (as Mrs White, 2010)
Merry Christmas from Nan & Cola (2010)
Nan & Cola: Fibreglass Island (2011)
Nan & Cola's Force Of Fibreglass (2011)
Samantha King Facts!
Edit
- A photo of Sam and Nan Booberson can be seen at the end of Heart of Fibreglass: The Nan Booberson Story in the final photo montage.
- Sam's hair has changed in every film she's been in, from a tied back bun, to a shoulder length cut, to a shaved head, to a pixie chop!
- In Nan & Cola: The Movie, while waiting for the boys' to return, Sam is heard saying 'I hear the chicken is good hear,' this is a reference to a previous scene where Cola and York order chicken before he proposes.
- A younger version of Sam was made to play 'Miss Grey' in Nan & Cola Catch A Killer, although there was a strong likeness, it is not the same Sim.