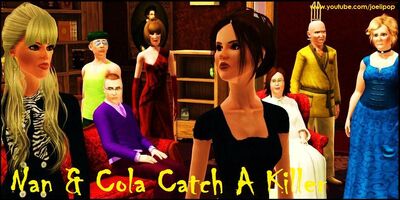 Nan & Cola Catch A Killer was the follow up animated feature to Nan & Cola: The Movie.
Nan & Cola are invited to the birthday soiree of wealthy eccentric widow, Mallory Black. The celebrations turn vicious when Mallory is brutally murdered in her own home.
Nan & Cola decide it is up to them to find out who killed Mallory Black. Will you catch a killer before Nan and Cola?
Nan & Cola Catch A Killer was released in late 2010.
Nan Booberson (Herself)
Cola Tittmeyer (Herself)
Joel Davies (Professor Plum)
Dorothy Davies (Mrs Peacock)
John Davies (Colonel Mustard)
Jack Davies (Reverend Green)
Karen Jordan (Miss Scarlett)
Samantha King (Mrs White)
Lorenne Ramanauskas (Florencia Bloodshed)
Victor Ramanauskas (Victorio Bloodshed)
Katrina Hill (Lady Kermita Slit-Throat)
Mel Hardy (Felicia Jack-Knife)
Kelly-Louise Warner (Mimi "Big Red" Daggering)
Nana Mac (Augusta Coffins)
David King (Igor Riggor)
Wayne Jordan (Doug Updegrave)
Nell Mangel (Mallory Black)
Adam Zapel (Prince Remy)
Earl Lee Riser (King Tomas)
Eileen Dover (Queen Julienne)
Oliver Suddon (Dr Clifford Black)
Royal Payne (King Alphonse)
Tad Moore (Prince Tomas)
Laura Norder (Miss Grey)
Jean Poole (Young Julienne)
Max Ramanauskas (Baby Remy)
Holly Wood (Maid Millie Miller)
Gaye Barr (Maid #1)
Estelle Hurtz (Maid #2)
Hugh Jass (Chef #1)
Ferris Wheele (Chef #2)
Ella Vader (Chef #3)
Harry Beaver (Police Officer #1)
Don Keys (Police Officer #2)
Crystal Ball (Music Video Slut #1)
Norma Leigh Loose (Music Video Slut #2)
Parker Carr (Music Video Slut #3)
Robyn Banx (Music Video Slut #4)
Sandy Beeches (Music Video Slut #5)
Sharron Needles (Music Video Slut #6)
Tish Hughes (Music Video Slut #7)
Willie Strokett (Gardener)
Nan & Cola Catch A Killer Facts!
Edit
- There are clues as to who killed Mallory Black right from the beginning.
- Audiences often suspect that Prince Remy killed Mallory, even though Nan and Remy were together when she was murdered.
- Nan & Cola Catch A Killer is inspired by the board game, Cluedo (or Clue). The board game is seen in the opening credits as a hommage.
- The Gardener, played by Willie Strokett, is seen for all of half a second.
- Rev. Green is known as the Reverend of Rap - a hommage to Jack Davies' aspirations to become an Aussie Hip Hop star. Jack was also working as a plasterer's apprentice at the time.
- At the beginning, Mallory is seen abusing two Pop n' Flo characters, Ol' Madge and Laverne!