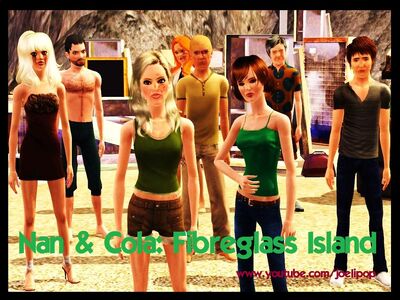 Nan & Cola are invited to Paris by Cola's lifelong idol, Memphis Heart for a charity fashion event! Our favourite mannequins are soon swept up with Paris fever. With their escort, Uncle Jack, by their side, everything should go swimmingly, right? Wrong!
The plane crashes on a deserted island and the girls are stranded, alongside fellow passengers, Jack, Corey, Norm, Beryl, Hank Broadway, Betty Bouffant and flight attendant Dolly. Soon, things start to go awry when passengers start being ambushed and kidnapped. It doesn't take them long to realise they are not alone on the island, and are in fact, sharing it with dreaded Fibreglass Hunters.
Will Nan & Cola escape the clutches of the evil hunters?
Nan & Cola: Fibreglass Island was released in March, 2011.
Nan Booberson (Herself)
Cola Tittmeyer (Herself)
Joel Davies (Himself)
Dorothy Davies (Herself)
John Davies (Himself)
Jack Davies (Himself)
Lorenne Ramanauskas (Herself)
Katrina Hill (Herself)
Karen Jordan (Herself)
Samantha King (Herself)
Betty Bouffant (Herself)
Hank Broadway (Himself)
Bec Stewart (Herself)
Natalie Van Oostveen (Herself)
Jase Shrubb (Himself)
Beau Thai (Corey)
Crystal Claire Waters (Dolly)
Hugh Jorgan (Norm)
Jay Walker (Zuri)
York Hunt (York)
Marsha Mellow (Memphis Heart)
Pat McCrotch (Captain Roy)
Victor Ramanauskas (Himself)
Kelly-Louise Warner (Herself)
Nana Mac (Herself)
Max Ramanauskas (Himself)
Ivy Ramanauskas (Herself)
Shannon King (Himself)
Ol' Madge Barker (Herself)
Ophelia Payne (Beryl)
David King (Himself)
Wayne Jordan (Himself)
Eddie McGuire (Newsreader)
Elizabeth Rock (Channel 8 News Reporter)
Olive Yew (Shop Attendant)
R. Sitch (Teen Nan)
Rhoda Bike (Child Cola)
Sonny Dae (Dolly's Husband)
Rusty Pipes (Hank's Mum)
Sy d'Burns (Betty's Mum)
Summer Ware (Norm's Daughter)
Pearl E. Whites (Lola Snow)
Eunice (Herself)
Nan & Cola: Fibreglass Island Facts!
Edit
- A certain character was written out of the series after a real life fall out!
- As Nan & Cola movie tradition goes, Ol' Madge Barker makes a cameo and an old lady dies!
- This is Eunice's first movie appearance as a Sim!
- The Sim created for the Newsreader role was initially intended to be a co-pilot, Captain Wesley, who died in the crash. The Sim can be seen running through the airport, as the Sim was unable to just walk. He was transformed for the Newsreader role, to which he struck a resemblance to Eddie McGuire!
- The women used for chasing Jack at the end are; Gladys, Lola Snow, Norm's Daughter, Clumsi Clementine, Laverne, Bec and Nat!
- The 'Island' cast comprises of real life characters, Pop n' Flo Characters and fictional characters!
- Joel decided to use his brother as one of the survivors to add to the drama. He added Betty and Hank to the survivors because he thought it would be interesting to see them out of their comfort zones.
- Three animals are seen in the film - A pig, a lamb and a chicken!