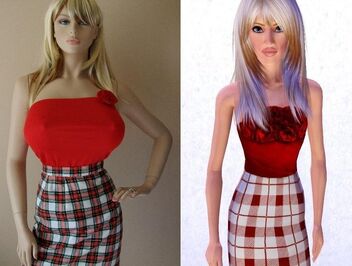 Nicola Vivienne Tittmeyer is one half of the famous fibreglass duo. Cola is a diva with a thirst to party and have fun, but also has a big heart.
Throughout the Nan & Cola Movie Series, Cola has almost married a fibreglass hunter and lost her family, caught a cold blooded murder, survived a horrific plane crash, fell in love again and consequently lost him soon after.
Cola Tittmeyer's Nan & Cola Movie History
Edit
Heart Of Fibreglass: The Nan Booberson Story (2009)
Nan & Cola Catch A Killer (2010)
Nan & Cola's It Gets Better Video (2010)
Merry Christmas From Nan & Cola (2010)
Nan & Cola: Fibreglass Island (2011)
Nan & Cola's Force Of Fibreglass (2011)
Cola Tittmeyer Facts!
Edit
- In real life, Cola has a broken leg, the top of the attachment broken off, and is now stuck together with heavy duty moving tape!
- Cola is featured as a blonde in the series, yet her first appearance in real life, she was a brunette.
- Before Cola was 'born,' Joel would refer to her as 'Sophia' before she had a naming ceremony, performed by Nan & Cola character, Kelly-Louise!
- Cola has four guardians; Karen, Jack, Lorenne and Victor.