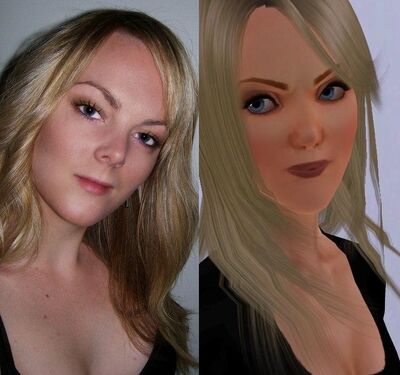 Bec is one of Joel's closest friends, one who he went to high school with, alongside Natalie.
Bec made a mousy debut in the Christmas Special, where she is seen with Nat in the park, but made a bigger punch in Nan & Cola: Fibreglass Island when she supports Joel when the girls and his brother are in the plane crash!
Bec Stewart's Nan & Cola Movie History
Edit
Merry Christmas from Nan & Cola (2010)
Nan & Cola: Fibreglass Island (2011)
Nan & Cola's Force Of Fibreglass (2011)
Bec Stewart Facts!
Edit
- In 2011, Bec and her partner, Adrian announced their engagement!
- A photo can be seen of Bec and Nan Booberson at the end of Heart of Fibreglass: The Nan Booberson Story.
- Joel has been friends with Bec and Natalie since 1999.
- Bec is one of few that have a remarkable likeness to their Sim!